When you think CIA, you think spies, code words, and hidden signals. What you probably don't think of is… skincare.
The beauty brand Skincential Sciences developed a skin treatment, called Clearista, that aims to soften skin, minimize dark spots, and eliminate wrinkles. So why would the venture capital part of the CIA, called In-Q-tel, want to fund Clearista? Do all those hours at the computer doing special CIA work lead to such furrowed brows and crinkly crows feet that only cutting-edge skincare technology could fix?
While that mayyyy be true, #notjudging, that's not why. The Intercept reports that the reason why the CIA is getting into the skincare game, is because Clearista removes a top layer of skin that contains biomarkers. A biomarker is a fancy word for elements in the skin that can be specific and supply biological information about the person from whom they were obtained, such as their DNA profile.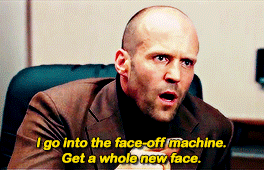 No, Jason. It's not exactly like that. Clearista is apparently painless and even beloved by celebs like Oprah.
It's not yet clear exactly HOW the CIA would ideally like to use this technology, and I'm doubtful that slapping on a 'Retexturizing Gel' to your target, waiting for it to take effect, and then collecting the skin-cell-y goodness is exactly 'covert' enough for this government agency.
So be careful you beauty junkies out there! Exfoliating might be a way for someone to collect your DNA.
dun dun DUUUUNNNNN!!!!!!!!!!!!!!!!